B E A T P A R A L Y S I S
Together, we are transforming treatment for paralysis recovery in North America.
Our goal for 2022 is to fund the final 4 patients in our upper limb paralysis recovery clinical trial.
Edgerton Neuromuscular Research Laboratory | UCLA
The first 20 of 24 patients with quadriplegia are receiving paralysis recovery treatment in the world's largest spinal neuromodulation study focused on recovering hand 'gripping' function.
Help the final three patients start their treatment with your gift support today.
100% of your gift will support the research providing these patients with life-changing paralysis recovery treatment.
Fundraising events and sponsorship support cover all of our operating expenses - so that 100% of your gift goes directly to supporting patients in clinical research trials. Thank you for being a BEL13VER!
---
CLICK HERE
Meet some of the patients in our hand fuction recovery clinical trial at UCLA.
---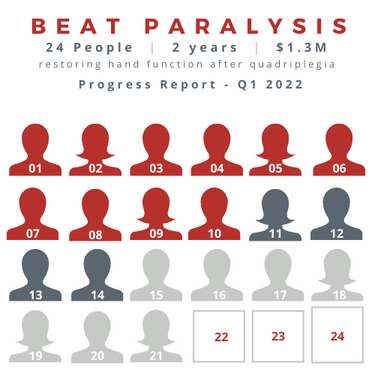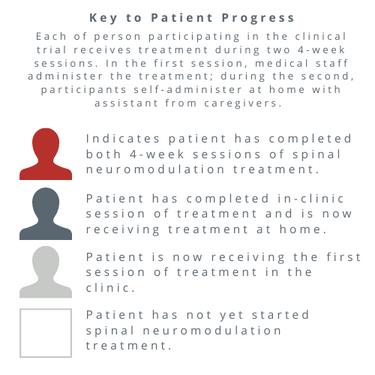 BEAT PARALYSIS CAMPAIGN - $1.3 Million over 3 Years
BEAT PARALYSIS is a 3-year (2020 - 2021 - 2023) campaign by the Jack Jablonski Foundation to raise $1.3 million
to transform treatment for paralysis recovery using spinal neuromodulation. Your gift support is funding research projects at
the Edgerton Neuromuscular Research Laboratory (UCLA) & the Neural Engineering Laboratory (Mayo Clinic).
We are well on our way to success! Please join us and help get this done.
Year 1 (2020) - Raised: $535,403 in year one
Year 2 (2021) - Raised: $449,582 in year two
Year 3 (2022) - Goal: $315,000